Metz presents co-branding partnership with Roku TV
IFA 2022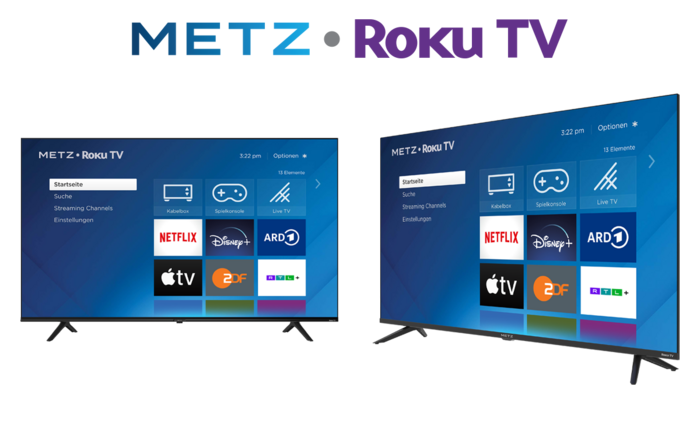 Zirndorf, 01.09.2022
Metz, the traditional German manufacturer from Zirndorf, will present the first results of their co-branding partnership with global streaming specialist Roku at IFA 2022 in the form of a completely new TV product, which will be introduced on the market under the METZ blue brand.
The new Roku TVs have been developed on the basis of an operating system specially designed by Roku and will be launched on the market by Metz un-der the brand METZ blue in October 2022. Metz has a global agreement between Roku and Skyworth, Metz's parent company, to thank for their unique position as co-branding partner, which allows them to introduce this new TV product to the German market.
Streaming forerunner meets young TV brand
Roku is a forerunner in the area of streaming on TV sets. The company's goal as a streaming platform is to connect the TV ecosystem to the entire world. Roku is currently the number one TV streaming platform in Canada, Mexico and the United States, measured by number of hours streamed. Roku suc-cessfully entered the German market with their affordable streaming devices in 2021.
Linear TV and streaming
The new Roku TV models from METZ blue use the Roku OS to connect linear TV with streaming to create an innovative overall experience. Using powerful functions, such as the cross-platform search function Roku Search, users can effortlessly find the content that they want to watch – no matter if it's in the daily live TV guide or on their streaming subscriptions.
Roku TV by METZ blue
Based on Roku's specifications, Metz has been able to implement this into the two new METZ blue series MTD3001 and MUD6001:
• 55" – 55MUD6001 (UHD LCD)
• 50" – 50MUD6001 (UHD LCD)
• 43" – 43MUD6001 (UHD LCD)
• 40" – 40MTD3001 (FHD LCD)
• 32" – 32MTD3001 (HD LCD)
These televisions will be launched on the German market in five sizes during the fourth quarter of 2022. "We are extremely pleased to be able to present the first Roku TVs co-branded with METZ blue at IFA. With the market launch of this new TV product in the near future and in good time for planning all of the activities related to Black Week and the football World Cup in November, we have positive expectations of our year-end business," comments Metz CE Managing Director Dr Norbert Kotzbauer.