Metz with many new products at IFA 2019
New products, exciting technologies and outlook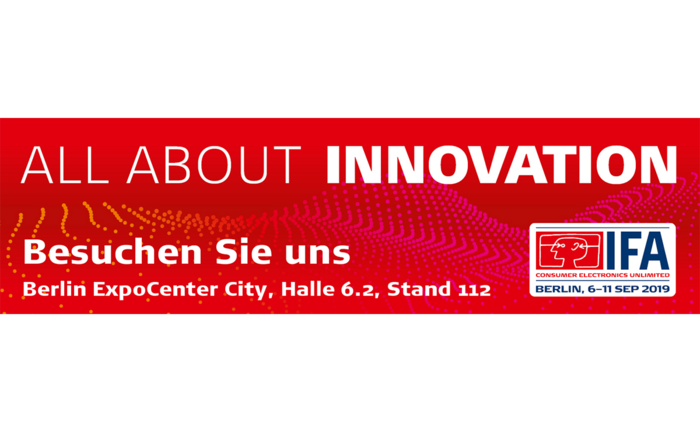 Zirndorf, 29.08.2019
From 6 to 11 September, Messe Berlin will be opening its doors to the largest consumer electronics trade fair: IFA. Industry, trade, media and more than 250,000 technology fans gather in the capital to experience first-hand groundbreaking technologies and trends of tomorrow. As a long-standing IFA exhibitor, Metz will also be represented at the trade fair in 2019 together with its parent company SKYWORTH and will present new products and product highlights in over 800 square meters.
The traditional company not only focuses on the further development of products for even more image, sound and operating quality, but also shows how the TV can be integrated into home and living environments as a smart home center. With the presentation of fascinating 8K OLED models, transparent OLED TVs and 120'' TVs, Metz also gives an outlook on the future of television.
Metz Classic
New panel technology for impressive picture quality.
One of the highlights is the presentation of a new premium class 100 Hz direct LED panel technology designed and developed especially for the high quality standards of Metz TVs. Local dimming allows independent dimming of the backlight of individual panel segments. This ensures the setting of optimal brightness values ​​for each segment so that dark scenes as well as bright colors are presented in a realistic and natural way.
More performance, faster speed.
The new Metz Classic chassis generation also brings the Metz TVs significantly ahead in terms of performance and speed: the improved and further developed version of the previous platform increases, among other things, the speed of the processor and the speed of storage and network connection.
Special model Fineo pro.
Exclusive for IFA, Metz is presenting a special model that takes the advantages of the successful Fineo family to new heights with its screen diagonals of 49 and 43 inches with even better features.
METZ blue
Improvements with Android 9.0 (P).
In addition to an exclusive specialist retail campaign for current OLED TV models, the Franconian TV manufacturer also presents a new model series, which will be available from Q1/2020 and equipped with Android 9.0 (P). Android 9.0 brings numerous improvements and features with it. For example, the initial installation with the "Android TV Quick Setup" is significantly optimized. In addition, Google transmits - if desired - already existing login data from peripheral devices to ensure a much faster login process in streaming services, etc.
Further novelties at the IFA in hall 6.2a, booth 112.
Further numerous news from the areas of TV, home entertainment and networking await visitors to the exhibition from 6 to 11 September in hall 6.2a, stand 112.